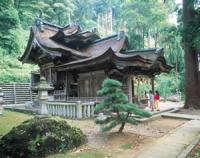 Why don't you come and experience a 1500-year-old Japanese craft in the beautiful Japanese paper village?
Bike tour to meet Echizen washi artisans and their works
Date: June 28th, 2017
Time: 9:00 AM - 17:30 PM
ECHIWA(launched website in November 2016 by The Fukui Shimbun Co., Ltd.) presents a bike tour to take you to the land of Japanese paper "Washi," which boasts a 1500-year-old tradition and continues to improve its active craftsmanship.
In this tour, you will visit Japanese paper studios and meet Japanese paper craftsmen. You will also actually experience making Japanese paper at their studios. Your handmade Japanese paper will be a wonderful souvenir to take home.
By cycling around in this land of Japanese paper, you will reach Ootaki Shrine that worships the Paper Goddess.
Please come and join this bike tour in Imadate to experience real Japanese life in truly beautiful natural surroundings. You will surely refresh yourself in a day with us.
check detail program and book through the online website ECHIWA.jp http://echiwa.jp/tour/
*Please contact to ECHIWA.jp about more this tour information
ECHIWA.jp (online reservation)