A unique festival related to the history of Echizen Washi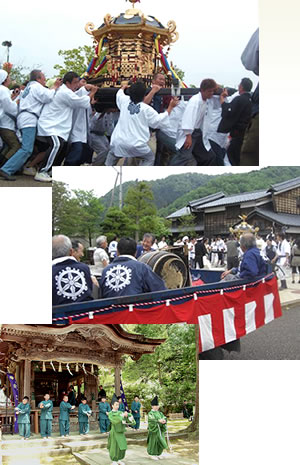 In Japanese, kami can mean either god or paper. Every spring, there is a unique festival that here in Washi-no-Sato that is related to the history of paper. Usually the paper goddess, Kawa-Kami Gozen (see History of Echizen) and the two local gods stay up in the mountain, but for the event, they will come down to the Okamoto Otaki Shrine to stay down here for three days, May/3,4,5, just during the festival.
On the first day in the evening, people go up to the mountain to welcome the gods down to the shrine with drums. The local people start gathering at the shrine waiting for their coming at about 5:00pm to 6:00pm until they are enshrined.
On the second day, children act out a special drama inside the shrine which is about how we learned paper from the paper goddess, Kawa-kami Gozen.
And on the final day, people carry the gods in a portable shrine, Mikoshi, for the others' greetings to the gods. And at 8:00pm in the evening the ceremony begins for the gods' departure of the village and people send them off by climbing up to the top of the mountain with fire and candle lanterns.
Please join in the festival! You are welcome to send the gods to the top on the final day together and can also, purchase special paper from the Washi factories during that time at Washi-no-Sato Street.