A paper goddess teaching people how to make paper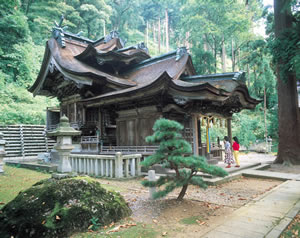 *1
Okamoto Otaki Shrine where the paper goddess and two local gods are enshrined.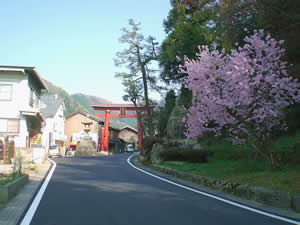 entrance torii
Legend has it that about 1,500 years ago a woman taught people in this area how to make paper with the natural materials from special plants for washi called Kozo, because she had sympathy on them since they did not have any rice fields to make a living. She mysteriously disappeared to the upper river, so she was named "Kawa-kami Gozen", meaning "upriver princess" in Japanese. Since then, the princess has been enshrined as a paper goddess with two local gods in Okamoto Otaki Shrine. *1
They say she might have been from Korea or China.Around that period, there had been many people from China passing through Korea to bring their techniques to Japan, which later became the present Japanese handcrafts. The Fukui*2 accent is very similar to the Korean one, due to the fact that Fukui was one of the main locations Koreans could first land on naturally with the strong tide of the sea. When they landed, they only found a vast swamp, which made it difficult for them to settle in. As a result, they went to the surrounding mountain valleys to live. These locations are the origins of where pottery, lacquerware, knives and Washi (Japanese traditional paper) are made, according to some studies.
*2Fukui : Echizen city belongs to Fukui prefecture.
Since then Washi has been a main industry in the Echizen area. There are now about 70 factories that use either handmade, industrial, or processing methods, with about 500 people working in Washi related jobs in the Imadate area "Goka".
"Goka" is called by five villages of the town, Oizu, Iwamoto, Shinzaike, Sadatomo and Otaki, in all together. This area have been producing Japanese paper since 6th century and constitute "Echizen Washi no Sato".
There used to be lots of paper villages every where in Japan, but it is veryunusual to see an area like Echizen only making paper through all the year, whereas the others used to make paper only in winter when they didn't producerice. As a result, Echizen is one of the largest handmade paper industries in Japan along with Tosa in Kochi and Mino in Gifu Prefectures. The Royal family sometimes uses Echizen Washi to announce their baby's birth with their names on it.
Here, there are many old people interested in Echizen Washi history and keep studying with the old documents by themselves. The above-stated are from my own studies taught by some of them. Now I am studying about the exported paper from Echizen during the edo period, when the central government closed most of the ports but Nagasaki only open to China and Holland. For the further studies, I always welcome any information about Echizen Washi. Thank you.