The paper life through the generations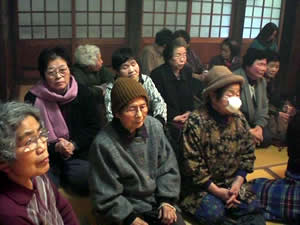 women in this paper village
Once you enter this paper village, you may notice people here are much alike each other! Especially the older women, who used to be the main work force in Echizen Washi to make papers, have the similar appearance because some say the job of making paper itself helped them having formed their body. Well, that's interesting. But sometimes they ARE really relatives!
Take an example from my boss's mother. She is now eighty-two years old and still makes papers or some paper art works. She was born in another paper family whose location is about only 200m away from where she is now, which is her husband's paper family, Jiyomon Paper Studio.
At that time the women who grew up in paper families were really welcome to the other paper families, because they knew how to make. So the marriages inside of this village, from one paper studio to the other, happened quite often. People here spend their whole lives with paper, such as my another coworker, who is in her seventies and was born in Jiyomon Paper Studio, says she learned paper from her mother's back being carried when her mother was making paper.
Paper itself is their life, which means it is not always an exciting thing but it includes both bright side and dark side. But I can tell they love paper a lot. As an outsider, I do respect their each paper life through the generations.