Introducing Echizen Washi to overseas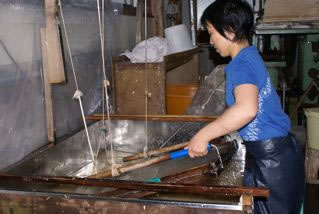 I am not originally from here, but have been working for Echizen Washi village since I came back from Beijing in 2000 on a part time basis in the mornings.
We mainly make paper for sake(Japanese alcohol made from rice)labels, using wood pulp, abaka pulp, kozo, mitsumata, and hemp.
I have great interest in nature and love the Echizen Paper Village which has a historical background spanning about 1,500 years. I love the people here and would like to support their business by tring to be another kind of diplomat.
This Web site is one of several ways doing this, and my connections(through paper) around the world are helping to spread this as well as friends overseas who always try to help me out in achieving my goals.
I am also paying close attention to our younger generation and hope that this might be a means to inspire them and show them how wonderful life can be.
Thank you.