There are many paper artisans here in Echizen Washi, but few people know about us individually. Our paper has been sold in markets everywhere by many local and domestic distributors as paper for materials such as sake labels, wall paper, wrappings and so on.
Here I'd like to introduce some of them with their family history.
Ichibei Iwano ( Living national treasure in Washi ) ( hosho )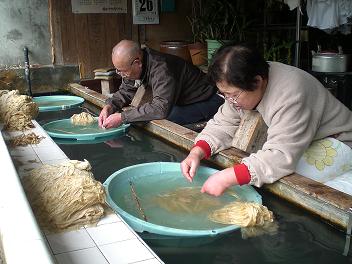 Ichibei Iwano and his wife
The ninth generation in Iwano family. His father, the eighth, was also a living national treasure, which means you have to keep the Japanese traditional way of making Washi, using 100% of the Japanese Kozo with hands, no machines. He mainly makes `hosho paper` for woodblock print like `ukiyoe`.
I often visit him and he sometimes teaches me the paper history and shows me some famous art works on his paper. The texture and quality are really special, so his paper helps art works last forever. The visitors are often surprised to see how strong the paper is when Mr. Iwano tries to tear the paper but hardly can.
He often says he has to calm himself down to make good paper, no anger and no irritation. His father told him not to think about taking an easier way in making his paper because each process is very important. There are lots of guests visiting him, but he has enough passion to explain his work one by one seriously. "This is my lifework. I don't know why but I need to tell people about Echizen…", he often says to me.
Shohachi Paper Studio (paper for woodblock printing, brush ink art etc)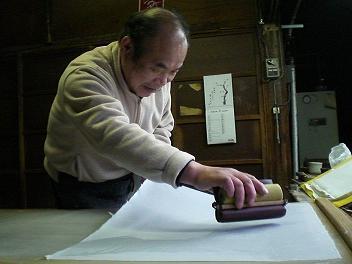 Shohachi Paper Studio (Shohachi Yamaguchi)
It seems to me that he enjoys the result of the paper quality using new materials or new studies for the portion. He uses Japanese materials whereas most of the Echizen studios use imported cheaper ones from overseas. In his leisure time he does pottery, so I can say he really loves working with his own hands.
Jiyomon Paper Studio (koma-gami)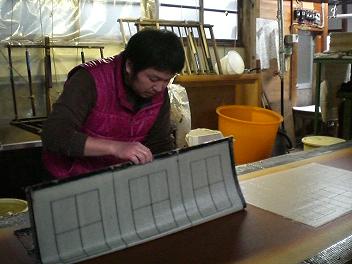 Jiyomon Paper Studio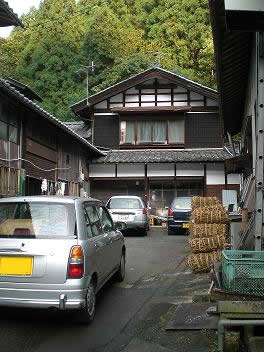 the NERI materials on the right in the picture, which is so called `glue` for making paper, just after delivered from the Washi Industrial Accosiation
I have been working for this paper studio since 2000. This studio is mainly run by the family; my boss, his younger brother, the brother's son, the boss's mother, the boss's aunts and uncle.
The mother of my boss, age 82, takes care of me very much and we often talk about the family's paper history and Echizen Washi. Her husband passed away more than twenty years ago and his younger sisters and brother have helped the business even after they got seventies. They all look very young and energetic! Now they don't work for long hours like before and I miss very much talking with them about politics, social issues, educational problems etc sharing the generation gaps.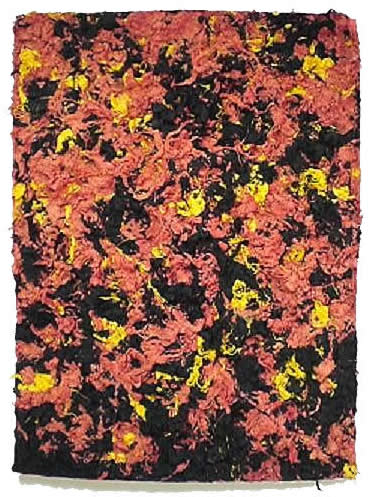 mother's work
The mother is also an artist and we had an exhibition together in 2007 with her paper art works and my woodblock printing works on my own papers. She started her art activities in her sixties after her husband's passing and is still passionate enough to think about the new designs all the time. I learn a lot from her that there are always unknown possibilities in our lives.
This studio produces various kinds of paper such as sake labels where the sake makers can easily print their own logo marks, lampshade paper, paper for umbrellas, endless paper and so on. They always challenge new types of paper and have sophisticated skills for new demand.