Let me introduce you to the people that I have met through our passion for paper.
1.Viviane Fontaine ( Switzerland )

I have been working with paper for 33 years and still continue my experiences with all kinds of fibres. What the first thing paper attracted me was the transformation of one raw material into another. It fascinated me.
I mainly use transparency, playing with light through the fibres. Art exist for me because it is part of my moving in Life.
CV
Many exhibitions since 1988 :
Personal exhibitions : Switzerland,( Geneva, Bern, Fribourg,Neuchâtel,Zürich) Germany (Frankfurt ) Japan (Tokyo).
I have been invited to participate for exhibitions in :
Poland ( Lodz), France ( Paris), Australia ( Sydney), Holland ( Amsterdam),Spanien, Germany (Karlsruhe, Münich, Hamburg), Corea ( Jeonju Deokjin), Israel , England ( London) , Italy( Como).
Prizes :
Price Lissignol (Geneva 1977)
Fonds cantonal de décoration ( Geneva :1986-1990-1993-1997)
Bank de Fribourg ( 1992-1996)
Bank :Crédit Suisse à Fribourg ( 1993)
Commission culturelle (Fribourg 1996)
Musée (Gernmany :1996)
Botanic Garden( Fribourg :1999)
Electric Entreprises ( Fribourg :2002)
Workshops in Japan :
sept-oct-1987,aug.1992,jan.2001,Niigata.
Jan-febr-2005, in Niigata and Imadate.
Web site
2.Teibido ( Yoshiko Hashizume ) ( Japan )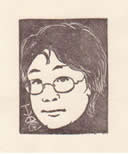 Born in Fukuoka, Japan.
Have been working the printing arts for 13 years.
The Echizen Japanese paper makes my work more attractive.
I love Echizen Paper!
CV
1.Education:
2003:M.F.A, from Central Academy of Fine Arts, China (CAFA), Prints Making Arts.
1999:Advanced courses in Chinese Folk Arts, Central Academy of Fine Arts, China.
2.Exhibition:
2009
Work "Beng Beng Che" was housed in Sakima Art Museum, Okinawa, Japan
2008
Work "Beng Beng Che" was housed in Sakima Art Museum, Okinawa, Japan
Submitted to Chinese&Japanese arts exchange exhibition in Beijing, China
2007
Submitted to International Print Biennial in Guan Lan, China
Submitted to Prints Tokyo Exhibition 2007, Tokyo, Japan
2006
The wall painting of Gates (shopping mall), Fukuoka -Japan
2005-08
Graphic design thinking and performance in Zhongmei Teaching Studio.
2005
Illustration of "Pleasure Bird Series"
2004
Illustration of "Aesop allegory" (San lian Bookstore, Hong Kong)
2003
Submitted to Graduate Excellent Work Exhibition, CAFA, China
*Teibido Studio( Yoshiko Hashizume )*
teibidorenrakubako@gmail.com
http://blogs.yahoo.co.jp/teibido
3.Jo Woffinden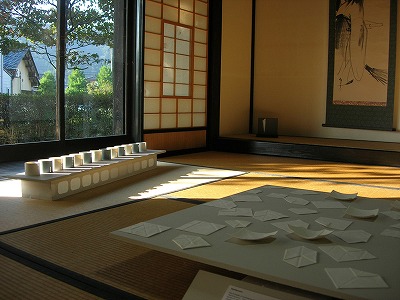 Jo's exhibition at Udatsu
Between 2006-2009 I operated a studio in Tsuruga, Fukui prefecture creating ceramics inspired by my experiences in Japan. My curiosity of traditional items such as 'shoji' sliding paper doors and 'byoubu' folding screens and the folding of paper 'gohei' , 'omikuji' and 'origami' influenced my work. I found the layers and folds within Noh costumes, kimono and packaging mysterious and enticing and tried to capture similar feelings within the work I created.
I combined paper pulp from Imadate with Shigaraki clay to make my work. The addition of paper fibres strengthens the clay's structure and enables it to be worked thin, like paper.
I also experimented with mixing kozo (the tree roots used to make Echizen washi paper) with liquid porcelain and used Echizen washi for sketches and paper models.
In September 2009 I had a solo ceramics exhibition at Udatsu Museum, called 'Folding Shadows'. For this exhibition I transformed the Museum's Edo period tatami room into a contemporary art space.
The strength of the natural light entering the room was softened through shoji paper doors. The changing of light throughout the day instilled different effects on my work and enabled me to discover more about my ceramic objects.
It was rewarding to see visitors engage with my work in the museum and I enjoyed teaching contemporary paper clay techniques during workshops.
CV
1.Education:
1998 - 2001:BA (Hons) Ceramics, Staffordshire University, UK
1999:University of Kansas, USA
2.Professional Employment/Experience:
| | |
| --- | --- |
| 08-11 2009 | Udatsu Museum, Echizen City, Fukui, Japan, Paper Clay Workshop Lecturer |
| 2006-2009 | Operating a ceramic studio in Tsuruga, Fukui, Japan |
| 2006-2009 | Miyazaki, Echizen City, Fukui, Japan, Noborigama Wood Kiln Assistant |
| 2005 & 2008 | Shigaraki Ceramics Cultural Park, Shiga, Japan, Studio Artist |
| 2003 – 2006 | Suffolk, West Yorkshire, UK, Artist In Residence |
| 2001 | Ardmore Ceramic Art Studio, Kwazulu Natal, South Africa, Studio Artist |
3.Exhibitions:
| | |
| --- | --- |
| 01/10 – 05/10 | 'Elit-Tile' International Ceramic Tile Triennial, The Museum of Contemporary Ceramic Art, Santiago De Los Caballeros, Dominican Republic |
| 10/09 | 'Strata', solo show, Gallery Art Concept, Kanazawa, Japan |
| 09/09 | 'Folding Shadows', solo show, Udatsu Craft Museum, Echizen City, Japan |
| 07/09 | 'Strata', solo show, Gallery Maronie, Kyoto, Japan |
| 04/09-06/09 | 'Unique ', The Ceramic Art Centre, Miyazaki, Echizen City, Japan |
| 08/08 – 09/08 | 'International Ceramics Competition Mino', The Museum of Contemporary Ceramics, Gifu, Japan |
| 06/08–12/08 | 'Boundless', 2008 Taiwan Ceramics Biennale, Museum of Modern Ceramics, Yingge, Taiwan |
| 02/06 - 07/06 | 'Made in Japan', solo exhibition, Ackworth Gallery, West Yorkshire, UK |
| 11/04 – 01/05 | 'Open Art 2005', 20:21 Visual Arts Centre, North Lincolnshire, UK |
| 07/01 | 'New Designers', The Business Design Centre, London, UK |
| 02/01 | 'Ceramic Showcase', The Potteries Museum, Hanley, Staffordshire, UK |
4.Awards:
| | |
| --- | --- |
| 04/09 | Special Judges Award, 'Unique' exhibition, Echizen City, Japan |
| 08/08 | Special Judges Award, 8th International Ceramics Competition Mino, Japan |
| 07/08 | Finalist Prize, 2008 Taiwan Ceramics Biennale 'Boundless', Taiwan |
| 05/05 | Artist's Grant Award, The Arts Council of England, UK |
| 12/04 | Paul Gordon Group Award, 20:21 Visual Arts Centre, North Lincolnshire, UK |