Rina Aoki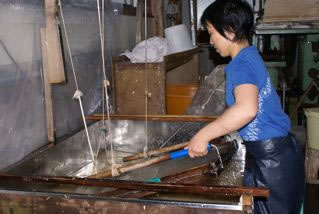 I speak three languages; English, Chinese and Japanese. And I love nature and do art works. I began mountain climbing in China and Nepal to paint pictures with black ink and often go to the mountains in Japan.
When I was in my twenties, I didn't know which field I should focus on to go for my future. But here I seem to be able to make all of my talent useful to live with Echizen Washi. I work hard for our paper every day, but also I do enjoy my life a lot with the beautiful nature and lovely people here.
CV
2010
Decorated a local train with Sakura designed Washi
2009-present
Washi workshops with ALTs in Fukui
2008
Art exhibitions with wood cut printings and water color pictures in collaboration with a Japanese and an American artist, Udatsu Museum, Echizen, Japan.
2007
Wood cut printing art exhibition, Fukui, Japan.
Visited paper mills in Anhui, China.
2006, June/July
Participated and assisted in the handmade paper workshops organized by Viviane Fontaine in Switzerland and Italy
2004-2005
English and Chinese interpreter, Yagi, Ltd.
2004
Paper with lights exhibition, Udatsu Paper & Craft Museum
2003
Visited the other paper mills in Mino, Tosa, and Kurotani, Japan.
2000-present
A papermaker and salesperson, Jiyomon Papermaker, Echizen, Japan.
1999-2000
Major in mountain sceneries with studies in Chinese brush ink art, Central Academy of Fine Arts ( CAFA ), Beijing, China. Joined an international Kendo club.
1998-1999
English instructor at Ability Development Center, Fukui, Japan.
Traveling for three months alone in USA, Germany and Europe.
1998
Graduated from Osaka University of Foreign Studies with a major in Chinese.
1996-1997
Major in Fine Art with studies in Chinese brush ink art, Hangzhou Teachers College, Hangzhou, China.