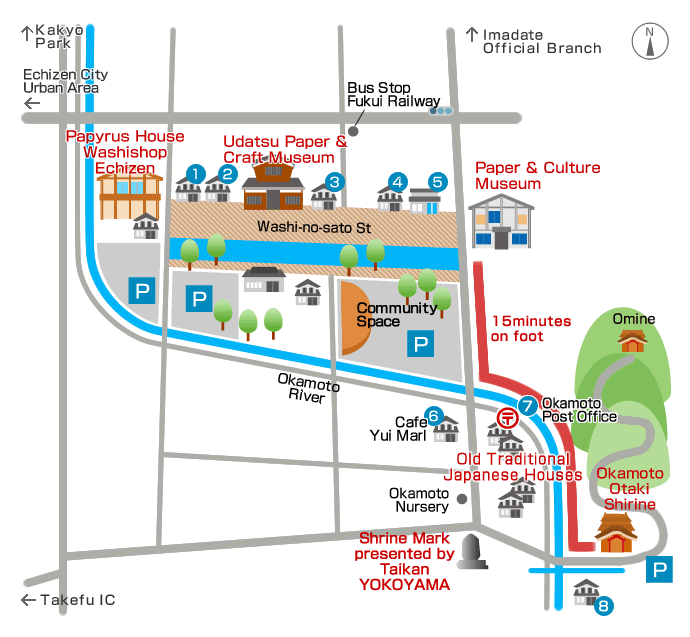 *1.Washi Shop Umeda 2.Cafe Saiya 3.Cafe Gallery Shion 4.Washi Shop Shimizu-Seishi 5.Food Store O-mart 6.Cafe Yuimarl 7.Okamoto Post Office 8.Sake Maker Sukimusume
Sending a Letter from Echizen Washi with a Special Postmark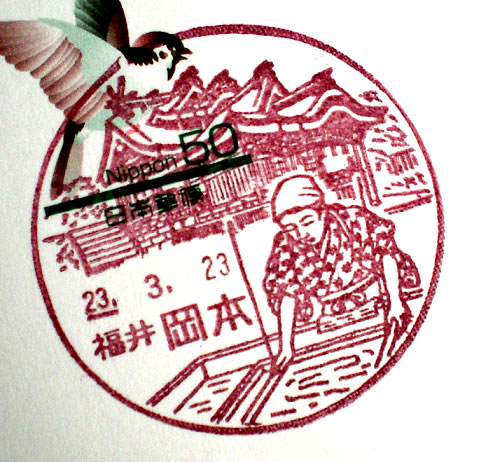 Stamp Mark
At Okamoto Post Office if you ask for a postmark called `fukei-in` in Japanese, or scenery stamp, you can send a letter or a post card with it ( please have a look at the picture ), which has pictures of the Okamoto Otaki Shrine and a papermaking woman.
On Satureday and Sunday the post office is closed, but please give it to Udatsu Paper & Craft Museum. They'll send it during weekday for you.
You can also send one for yourself as a good memory!
Address
Papyrus House
8-44 Shinzaike-cho, Echizen City, Fukui 915-0232
phone: 0778-42-1363
Udatsu Paper & Craft Museum
9-21-2 Shinzaike-cho, Echizen City, Fukui 915-0232
phone: 0778-43-7800
Paper & Culture Museum
11-12 Shinzaike-cho, Echizen City, Fukui 915-0232
phone: 0778-42-0016 fax : 0778-42-3260