Japanese Traditional Papermaking Workshop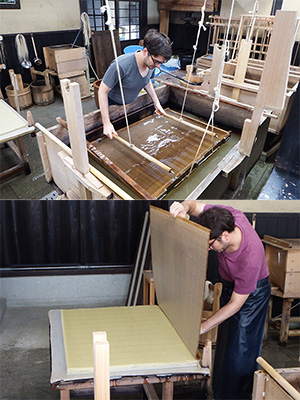 Do you want to try traditional Japanese papermaking in Echizen ?
Udatsu Museum has started offering a new style of workshop for you to experience Japanese papermaking, washi, with our local artisans' advice. If you're interested, please check the following information !
Fee :
5,000 yen for one person, for one or two sheets.
After practicing several times, you'll finally make one or two sheets of your own handmade paper . The papers will be dried on next day, so if you need us to send you by postal service, please pay for the additional fee in advance. Thank you.
Place :
Udatsu Paper & Craft Museum
9-21-2 Shinzaike-cho, Echizen-shi, Fukui 9150234 Japan
TEL : 0778-43-7800 FAX : 0778-43-7808
Reservation :
- for personal visitors : No reservation is needed.
- for group visitors : Please make a reservation at least two weeks beforehand for our preparing materias.
Contact :
Katz Hata
email: midorikan.jp@gmail.com
* Please put a title on your email saying ` Japanese Papermaking Workshop `.
* If you need an interpreter, please let me know.
We're looking forward to your visit !! Thank you.